Tubbataha Reef trip schedule 2022
Dolphinbay divers Puerto Galera and Sabang
We offer liveaboard trips to the most beautiful dive sites in the Philippines.
Dolphinbay Beachfront & Dive Resort is Located between Puerto Galera and Sabang, Oriental Mindoro, Philippines. This luxurious, Austrian-managed hotel has full amenities and complete with diving, sailing equipment, jetski and motorbikes.
Besides the Dolphinbay Beachfront Resort, we also offer you more hotels directly in Sabang.
Sabang, about 6 km from Puerto Galera is a small, lovely town on the north coast of the island of Mindoro in the Philippines and the heart of the nightlife in Puerto Galera.
Come visit us soon and experience an adventure-filled holiday!
Our small family-style run hotel offers many of the amenities of a larger hotel but with an atmosphere that makes you feel "among friends".
We offer Liveaboard trips to Apo Reef, the wrecks in Coron, Tablas Strait and Tubbataha Reefs
Recreational and Tech diving, PADI, SDI and TDI
Our dive shop is specialized in diving with rebreathers.
We are specialized in several kind of liveaboard diving cruises in Philippines, where great value is given to small groups, to safety and of course also to fun. The liveaboard with our S/Y Flying Dolphin, equipped conforming international safety standards.
Check our schedule and join liveaboard diving trips with Dolphinbay divers to the most beautiful divesites in Philippines. Tubbataha and Apo Reef, wreckdiving in Coron and Maestre de Campo.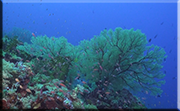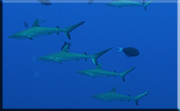 Tubbataha Reefs is an atoll coral reef located in the Sulu Sea of the Philippines. 98 nautical miles (181 km) southeast of Puerto Princesa City in the Palawan Province. It is a marine sanctuary protected as Tubbataha Reefs National Marine Park. In 1993 the UNESCO declared Tubbataha as World Heritage Site. Tubbataha reef is nominated at the New 7 Wonders of Nature.
Beside Tubbataha Reefs is Apo Reef one of the most famous diving site in the Philippines and the one of the most popular coral reefs in the world. Apo Reef is the second largest coral reef in the world and the largest one in the country.
© 2020 - Jan Lorenz - www.dolphinbay-divers.com